Thanks bunches to Melissa at More Time 2 Teach for honoring me with the Liebster Award. I'm super excited about it, and can't wait to pass it on to some fabulous blogs!
1. Copy and paste this award on your blog.
2. Thank the giver and link back to them.
3. Reveal 5 other bloggers and let them know by commenting on their blog.

Here it goes...
1. Jessica at Mrs. Heeren's Happenings.
2. Amanda at Teaching Maddeness.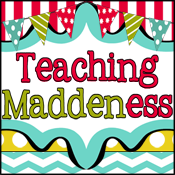 3. Linda at Around the Campfire
4. Darleen at Third Grade Love